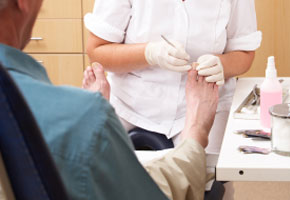 Treatments
Get in Touch
01332 349 479
Opening Times
Monday to Friday: 8:30 - 5:30
Saturday And Sunday: CLOSED
Diabetic foot care / foot assessments
Diabetes accelerates poor circulation, neurological changes and alters the components of the blood. It can also cause impaired vision and renal disease. These can increase the susceptibility to infection and other foot problems.
Good glycaemic control, expert foot care and well-fitting footwear are therefore essential to prevent serious problems with the feet.
Any problems with the feet it is essential to seek help straight away to prevent serious complications.
With regular expert management complications should be avoided but if necessary patients will be referred to GP/hospital multidisciplinary clinic.
Foot care for other high risk conditions
Other high risk conditions include Rheumatoid arthritis, poor circulation, and poor immune system.
Expert regular foot care is also essential for these patients to prevent problems such as infections.
Notice
Surgery opened first Saturday of the month in the morning.
For any further information or to book an appointment please call 01332 349 479.