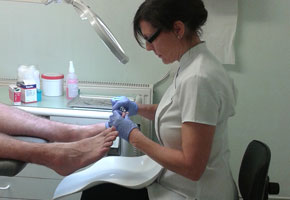 Treatments
Get in Touch
01332 349 479
Opening Times
Monday to Friday: 8:30 - 5:30
Saturday And Sunday: CLOSED
About Us
For the first 10 years of my career I worked full time in the NHS as a senior chiropodist/podiatrist in a London hospital specialised in diabetic foot care in one of the first multidisciplinary clinics in the country. I was also in charge of the ingrown surgery clinics where I also gained considerable experience that is advantageous to my private practice today. I also worked one evening and Saturdays in well run private practice in Croydon gaining valuable experience before opening my own part-time private practice in South East London.
In 1999 I moved to Derby and bought the Surgery at 8 Kedleston Road that is now called Five Lamps Chiropody Clinic. the previous owner Mr R Butterworth who practised there for 45 years was retiring. The clinic therefore was well established and is a purpose built extension to my house.
My surgery is modern, well equipped, comfortable and friendly. I have two part time receptionists - Tessa and Jayne. Since moving here I have spent a considerable amount of money updating the surgery in order to comply with current standards and removed the garden at the front to provide parking.
I attend the regular Branch meetings of the Society of Chiropodists and Podiatrists in Nottingham and Manchester. I also travel around the country to attend the best courses that are relevant to update and further my professional development as well as using online resources, journals and books.
Notice
Surgery opened first Saturday of the month in the morning.
For any further information or to book an appointment please call 01332 349 479.