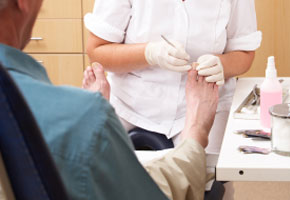 Treatments
Get in Touch
01332 349 479
Opening Times
Monday to Friday: 8:30 - 5:30
Saturday And Sunday: CLOSED
Nail Care
Treatment may be simple nail trimming and/or advice on prevention of problems developing.
Patients may have difficulty cutting nails due to poor eyesight , arthritis, back trouble or poor flexibility.
Thickened toenails may blister or ulcerate beneath if not reduced in thickness.
Ingrown toenails if not treated early enough may require nail surgery.
Advice and treatment of fungal nail infection which may spread to the skin if not treated.
Corns beneath the nail can be extremely painful which will only worsen if not treated.
Notice
Surgery opened first Saturday of the month in the morning.
For any further information or to book an appointment please call 01332 349 479.