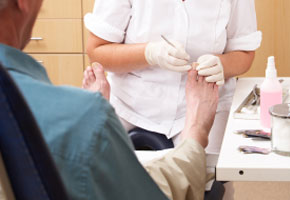 Treatments
Get in Touch
01332 349 479
Opening Times
Monday to Friday: 8:30 - 5:30
Saturday And Sunday: CLOSED
Nail Surgery Under Local Anaesthetic
In certain circumstances nail surgery is recommended. Usually if the ingrown nail has been left too long before seeking treatment or if persistent episodes of the nail ingrowing has occurred. I have many years of experience of nail surgery both in the NHS and private practice.
The operation is performed after an injection of local anaesthetic is given on either side of the base of the toe which will make your toe numb.
A section of nail on one or both sides ( very occasionally the whole nail)is removed .Then a chemical is applied to the nail bed to ensure it will not grow back.. A large dressing will be applied to the toe and you will be advised to put your feet up for the rest of the day. you should not drive while your toe is numb. Your first redressing appointment is normally in a couple of days then you will be advised on dressing it yourself daily. complete healing normally takes approximately 5 weeks. the operation has a high satisfaction/success rate and patients are surprised at the only pain they experience is slight discomfort of the injections.
Notice
Surgery opened first Saturday of the month in the morning.
For any further information or to book an appointment please call 01332 349 479.