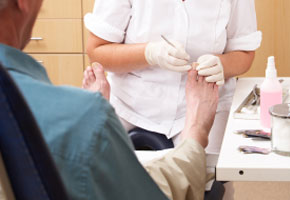 Treatments
Get in Touch
01332 349 479
Opening Times
Monday to Friday: 8:30 - 5:30
Saturday And Sunday: CLOSED
Corns and Callus
These are areas of hard skin that are formed as a result of excess pressure, shear or friction on areas of the foot. A corn has a central core where the pressure has been concentrated.
Reasons for removal
To alleviate pain
To prevent muscle/ligament strains from trying to offload the areas
To prevent ulceration of the areas if the corns or callus are left to get too large/deep (particularly important in Diabetic or other high risk patients)
To prevent fissures/cracking and blistering beneath
Prevention of falls in elderly or disabled patients and increase mobility
Cosmetic purposes
Corn/ callus treatment
Hard skin is removed to treat painful feet and prevent ulceration.
Devices can be made to help prevent them from reoccurring
Additional Management (extra charge)
Orthotics
Moulded silicones for callus or corns on or between toes
Polymer gels to absorb shear
Notice
Surgery opened first Saturday of the month in the morning.
For any further information or to book an appointment please call 01332 349 479.