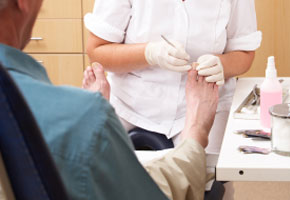 Treatments
Get in Touch
01332 349 479
Opening Times
Monday to Friday: 8:30 - 5:30
Saturday And Sunday: CLOSED
Ingrowing Toenail
This is a condition where a spike of nail or uneven edge of the nail plate has pieced the skin. It occurs most frequently in the big toenails of adolescent males. This is often due to the skin being softer due to perspiration, poor nail cutting sporting activities and footwear. If left untreated it will cause bacterial infections causing the toe to become red and swollen with a throbbing pain and acute tenderness.
If treated early enough by a podiatrist/chiropodist the spike can be removed and the condition may resolve. If the condition has progressed too far or there have been repeated episodes of the nail Ingrowing then nail surgery would be recommended.
Other nail common nail conditions
Involuted or "curved around" nails
Corns beneath nail plate
Damaged or thickened nails
Fungal nail infections
Notice
Surgery opened first Saturday of the month in the morning.
For any further information or to book an appointment please call 01332 349 479.